Many people access the material from this web site daily. Most just take what they want and run. That's OK, provided they are not selling on the material as their own; however if your productivity gains from the material you have used, a donation from the money you have saved would help to ensure the continued availability of this resource. Click the appropriate button above to access PayPal.
Maintain a Set of Documents to Open/Close at Once
This add-in was inspired by a request in a Microsoft user forum for a function to allow a set of documents to be opened. That of itself is easy enough to achieve, but this add-in expands on that premise to include all the back room tasks associated with maintaining and using such a list.
The list itself is stored in the PC's registry.
When correctly installed the add-in will place a button group at the right end of the Home tab of the Word ribbon: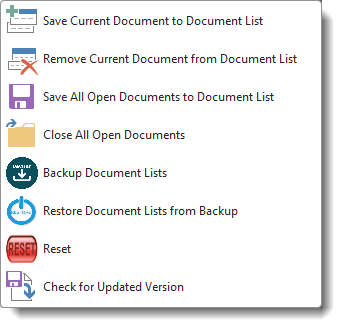 The group comprises three buttons. The first two operate the opening and closing of the documents, the third opens a drop down list where you will find buttons to add documents to and remove them from list. There is a button to edit the list and a button to reset the defaults, including removal of the entire list.
Using the functions couldn't be simpler. If you have a document open and click 'Save to Doc List' that document's name and path are added to the list (if they are not already present). Similarly clicking 'Remove from Doc List' will remove the document from the list, if it is present in the list.
'Edit Doc List' is simply a means whereby the list of files is displayed with the option to remove any (or all) documents from that list, by means of a userform shown below. The userform also provides the option to select a file (or files) from the Windows filing system to add to the list.
While the full document name including the path where it is filed is stored, only the document name, without the path, is displayed in the dialog. When an items are selected the label at the top of the form changes and the 'Update List' button becomes available.

NOTE: The add-in will not load documents from a Web location. Copy the documents to a local drive.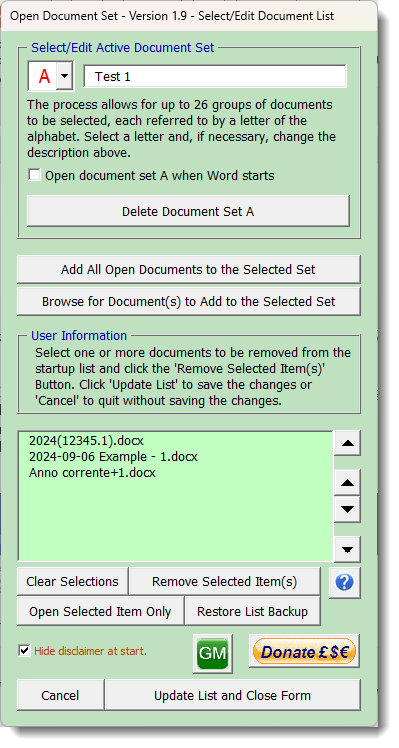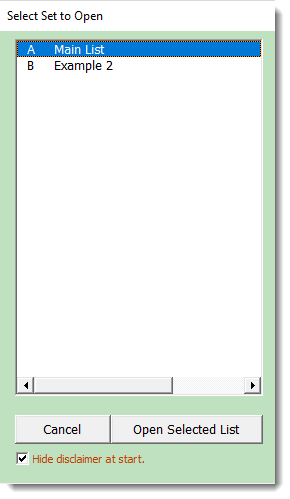 See also the complementary (though unconnected) add-in that will save the open documents and restore them when Word is next started.
Open Documents
Some Word users frequently work with the same set of documents open. The purpose of this add-in is to maintain a list of such documents which may all be opened (and subsequently saved and closed) together when working on a particular project.